Invincible Divorcée Home Study Course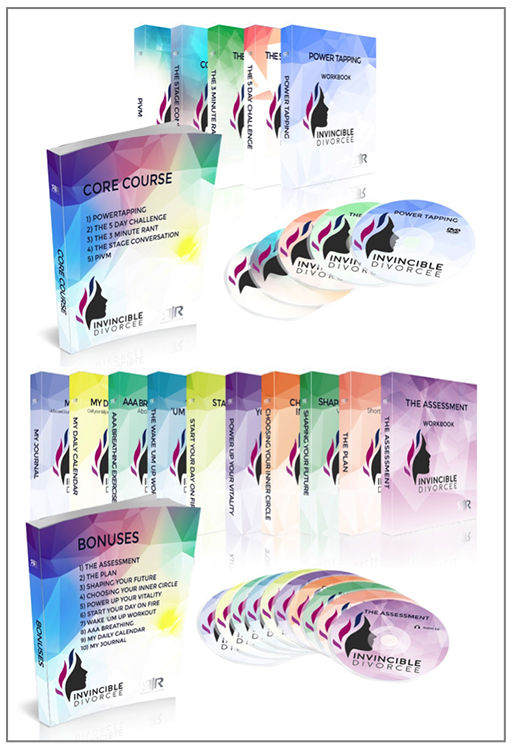 With the Invincible Divorcée Home Study Course you will learn:
How to own emotional composure
Eliminate self-sabotaging beliefs
Have an unshakable "YES I CAN ATTITUDE"
Bravely stand up for yourself, think ahead and make decisions with clarity and confidence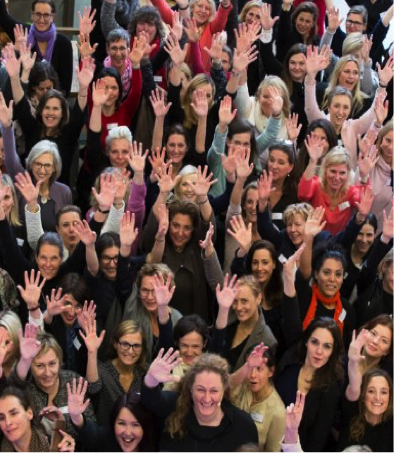 You'll have full access to the entire Invincible Divorcée Home Study Course and an actionable plan to be confident and composed in the face of conflict and feel emotionally calm and at peace throughout this stressful time in your life. This is a proven process to get you through your divorce or breakup and come out being a happy, invincible woman. Using what this program teaches you, within one week you'll feel in control, inspired and fearlessly engaged in creating your new life without self-doubt – and much, much more!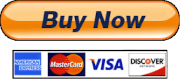 Core Course
TOTAL VALUE OF THE INVINCIBLE DIVORCÉE CORE COURSE TOOLBOX + 10 Bonuses …$4,500.00!
FOUR THOUSAND, FIVE HUNDRED DOLLARS!
IF YOU ORDER IT TODAY – – – – THE PRICE IS JUST $997.00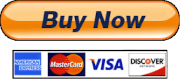 "Robert, I first want to thank you for your incredible coaching program. I love sharing what I've learned from you with others and see the excitement in them as they recognize how your techniques are working for them and the overall changes they are experiencing. I can't say thank you enough for all you do for those around you — the world is better with you in it."
Angie Taylor
"PowerTapping came to my emotional rescue during a recent stressful period in my life. Because of bureaucratic confusions, I was faced with the probability of losing my health insurance, something I was relying on. Robert suggested that if I tried PowerTapping, accompanied by some centering words, this process would empower me to cope with my turmoil. I was amazed by the results of using PowerTapping. Although the outer problem (gaining health insurance) did not immediately go away, one brief session of PowerTapping quickly relieved my inner problem of emotional distress. PowerTapping allowed me – in the face of my fears – to remain calm and poised to take all the action steps required to deal with my challenges in a logical, practical way."
Joan Cody, R.N., B.S., C.M.C.
"Robert has helped me through a very difficult time and got me out of my depression and self-destructive behavior. I'm losing weight, working out and loving it and starting to like myself. The pain in my low back is completely gone and I'm happier and I'm feeling better about my life than I have in years. I am grateful for his amazing work."
Linda Patton
"I am so excited about what I'm doing and my future success since learning these amazing tools. The blocks that kept me stuck are now behind me. I see now how I've been a victim of my own self-sabotage and since working with Robert I'm now in control. It has been unbelievable, the change in the way I feel when I'm in the same situation that gave me so much anxiety. I'm amazed at how powerful this technique is; the results are amazing and profound."
Rachel Harris
"While undergoing chemotherapy for breast cancer, PowerTapping helped me to release the negative associations I was beginning to develop towards the treatment itself, the infusion center at the hospital, and some of the hospital staff. By overcoming my resistance to the treatment I was able to receive the chemotherapy with only minor discomfort, absolutely no nausea and fully benefit from the intended effects of the medicine. Now that my cancer is gone, I am happier, healthier and more authentic expression of myself. PowerTapping has been a profound tool for integrating the challenge, struggle, opportunity and true gift that my experience of cancer has been. Robert's work is just amazing!"
Betsy Haggerty
"My old tapes were running in the background telling me that I'm not good enough for anyone to want to work with me in my organization…I don't know enough, I'm not successful enough and I'm not worthy. I know your amazing PowerTapping technique can help me – it already has! Since putting what you've taught me into action, I'm feeling stronger and I'm no longer letting self-doubt get to me. Thank you."
Rho Ann Papp
"I am a hairstylist and I spend a lot of time on my feet. I booked a session with Robert for my severe back pain and he introduced me to PowerTapping during my first session. I was very willing to give it a try. Robert took me step by step through the process and it really released my stress. He taught me his technique and very quickly I was doing it on my own. I can do it anytime – anywhere, and it gives me instant relief – it's a great stress-buster! Since I have been doing the PowerTapping, my lower back pain has greatly diminished and I generally feel better about myself."
JoAnne Huey
"Yesterday my husband spoke of a very sorrow-filled memory from several years ago. It just seemed to envelope him as he spoke of it. I suggested he use Robert's PowerTapping technique and tap it out. He did so and after several run-throughs he got the energy removed from the memory. Sure appreciate Power Tapping! Yesssssssss – big fist pump!"
Patty Keyes
"Robert is indeed a very special person! Going through what I've gone through seemed just too much to handle but because of working with him my energy is back and I'm gaining awareness, I'm no longer in overwhelm and I now have focus. Thank you Robert! Thanks for helping me!"
Leighsa Montrose
"What I've learned from Robert is magical. It's something that helps every part of me feel empowered. I can use the skills I've learned from his work anywhere I am. I now have more confidence to do what I know I'm capable of and I've learned to love myself. I conduct my life now feeling in control – I'm no longer thinking like a victim, I love and believe in myself. Robert's work has changed my life for the better! I'm inspired!"
Dawn Marshall
"I am so grateful that your work has taught me how to examine some old beliefs buried deep inside me and how these beliefs are behind the physical manifestation. Your awesome methods have come along at the perfect time. With all the challenges, frustration and stress – your program is a life saver. I appreciate what you are doing for so many."
Marlene Sanford
"Robert's work is fabulous. Today my husband said something that was absolutely uncalled for — but, I had the tools to deal with this situation. Thank you Robert, and thank you for helping me to think in a more positive way and have more positive conversations with myself. Your help and continued support helps bring out the positive in me. Each time I think I cannot do it by myself, your encouragement is there … I hear you say, JUST DO IT! YOU HAVE THE TOOLS! GO FOR IT!"
Jean Stafford
TOTAL VALUE OF THE INVINCIBLE DIVORCÉE CORE COURSE TOOLBOX + 10 Bonuses …$4,500.00!
FOUR THOUSAND, FIVE HUNDRED DOLLARS!
IF YOU ORDER IT TODAY – – – – THE PRICE IS JUST $997.00